April 2017
Let's indulge in some counterfactuality.
Recently I was doing some house-sitting in Kitsilano, which gave me a chance to visit some of that neighbourhood's historic sights, one of which is here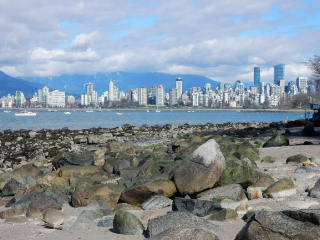 on the beach at the bottom of Trafalgar Street, looking across English Bay at the West End.
As you can see, there isn't much there. Now. But at one time the Canadian...
This past weekend was the centenary of the Battle of Vimy Ridge and I found myself getting irritated at the number of times I heard the old cliche that Canada was born at Vimy.
Much of the journalistic and academic commentary I read about the centennial made the point that this was not true, but nonetheless the generals and the politicians repeated it like a mantra. "Canada was born here," our prime minister said in his speech at the Vimy monument in France.
In their new book...