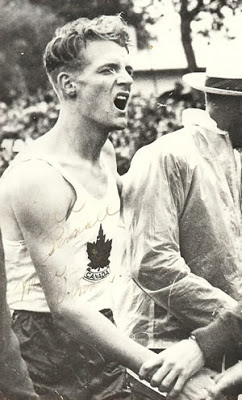 The death of Roger Bannister last week got me thinking about Bill Parnell (that's him in the above photo).
Bannister, of course, was the legendary runner who broke the 4-minute mile barrier in 1954, then won the famous "Miracle Mile" at the Empire/Commonwealth Games in Vancouver when he and John Landy both finished the race is less than four minutes.
It is an understatement to say that Bill Parnell, from North Vancouver, enjoys somewhat less renown. But he was a pretty fair runner in his own right.
What links Parnell to Bannister is that it was Parnell who held the Commonwealth record for the mile (4 mins, 11 secs.) that Bannister and Landy demolished in Vancouver. He represented Canada at the 1948 Olympics in London and the 1952 Games in Helsinki, along with the 1950 Commonwealth Games in Auckland, where he set the mile record. In 1949 he was named the country's outstanding athlete of the year.
Following the Vancouver games Parnell hung up his spikes. He later taught at Handsworth High School in North Van, retiring from teaching in 1988, the same year my daughter began attending the school. A year earlier and perhaps I'd have spoken with the local hero at a meet-the-teacher night
And something else. I notice that three years ago a pair of Bannister's running shoes, the pair he was wearing when he broke the 4-minute barrier, sold for $544,000. Not bad for a pair of worn out spikes. Meanwhile Parnell's family donated for nothing some of his career memorabilia to the North Vancouver Museum, including the bright red blazer that he wore as a member of the 1950 Empire Games team.
I hope when the new North Van Museum opens next year there will be room to display Parnell's jacket front and centre. Except for Harry Jerome, is there another North Van athlete who achieved so much on the international stage?