Let's indulge in some counterfactuality.
Recently I was doing some house-sitting in Kitsilano, which gave me a chance to visit some of that neighbourhood's historic sights, one of which is here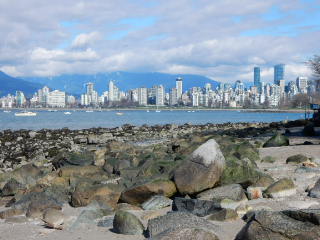 on the beach at the bottom of Trafalgar Street, looking across English Bay at the West End.
As you can see, there isn't much there. Now. But at one time the Canadian Pacific Railway had big plans for this beach.
In 1884, when the railway received a huge gift of land from the province, including much of what is now downtown Vancouver, Trafalgar was the western edge of the grant. At the time the railway anticipated bringing its main line all the way across the downtown peninsula out to this point where it planned to build a rail terminal and deep sea port. It seemed like a good way to avoid ships having to navigate the First Narrows into the inner harbour.
As it turned out, this Kitsilano location required the rail line to pass through Kits Point, where the Squamish people had been granted a reserve, and to occupy land that had been designated a naval reserve. So for once the government denied the CPR what it wanted and the terminal was built in the harbour near the foot of Granville Street, with major implications for the future of the new city. Granville Street became a major thoroughfare and the whole centre of gravity of downtown Vancouver shifted westward from the original townsite in Gastown to its present axis.
But what if the original plan had gone through? This beach would have become the Pacific terminus of the transcontinental railway and the entire development of the city would have been different. For one thing, the hill back of the beach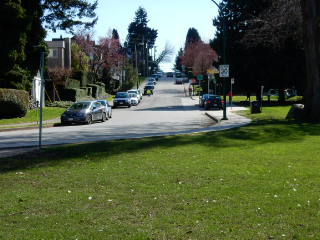 might have become the site of a palatial hotel and a whole other downtown would be perched on the slopes above Kitsilano Beach instead of the peaceful residential neighbourhood that now exists.
At the moment there is a small war memorial in the park at the foot of Trafalgar, but when the dog walkers and cyclists pause to admire the view there is no indication that the history of the city turned at this spot.