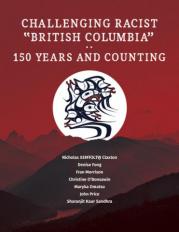 On July 20 British Columbia commemorates 150 years since it joined the rest of Canada. There will doubtless be many celebrations but a new history of the province written by a group of academics and social justice progressives is not one of them.
Challenging Racist "British Columbia": 150 Years and Counting is a warts and all account -- check that, it is an only-the-warts account -- of the province's past. It presents our history as an unbroken record of dispossession, white supremacy, racism and genocide.
Published by a research project based at the University of Victoria and the Canadian Centre for Policy Alternatives, the ebook is available free online.
Read it and weep.