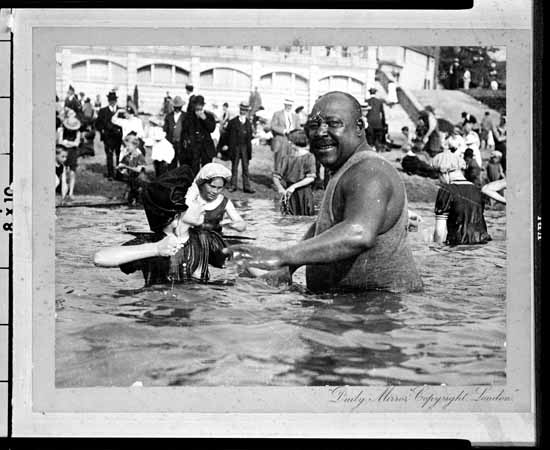 As I have already mentioned, my next book, Becoming Vancouver: a New History, has been delayed by the COVID situation and will not be published until next year. In the meantime, I thought I would introduce the project by telling some stories from the book.
Given the wave of Black Lives Matter protests sweeping the globe, I'll begin with the story of "the Great English Bay Scandal." Most residents of Vancouver know about Joe Fortes. After all, a popular downtown bar/restaurant is named for him, as is a branch of the public library. Joe Fortes has always been one of the feel-good stories of the city's history. (Photo courtesy of Vancouver Public Library 83598)
"Joe," actually named Seraphim, was a onetime bar tender originally from the Barbados whom the city appointed official swim instructor and lifeguard at English Bay beach, one of the city's most popular recreational areas by the 1890s. There was a bathhouse, a dance pavilion, even a roller rink for a few years. Joe, who lived in a small cottage nearby, was the unofficial 'mayor' of this waterfront playground. One guidebook called him "the dusky professor of the natatorial art." There was hardly a resident of the city at the time who did not claim to have been taught to swim by him.
There are at least two versions of the scandal, which according to city archivist Major James Matthews (a legendary character in his own right) "shocked all Vancouver." The first involved a breach of the dress code. At the time (1899) the beach was divided into sections where men and women bathed separately. According to Matthews, one day a woman, "an impertinent hussy, bolder than the rest," strayed into the men's half wearing a revealing bathing costume, meaning that it showed bare legs up to her knee. This breach of beach etiquette caused the local Women's Christian Temperance Union to write a letter of complaint to the newspaper. In response the woman sued the WCTU for libel. The case went to court where it dragged on for two years.
Author Ethel Wilson presented another version in her delightful novel, The Innocent Traveller. According to Wilson, the woman at the centre of the controversy was the president of the WCTU, Mrs. Gleason. Her perceived indiscretion was that she was seen "more than once in a public place, bathing in the arms of a black man." In other words, taking swimming lessons from Joe Fortes. When a scandalized member of the Union lodged a complaint , the complainant was expelled, at which point she sued, successfully, for slander. 
Whatever the exact details of the incident, it provides a window on the straitlaced morality of some elements of the city's Victorian social elite. It also suggests to me that the colour-blind affection the populace had for Joe Fortes may not have been as widespread as modern Vancouverites like to tell themselves.