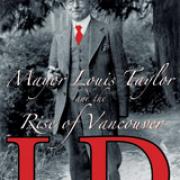 Thursday last the Vancouver Heritage Foundation held a drinks party in the lobby of the Sun Tower and I was invited along to say a few words about one of my favourite subjects, Louis Taylor. The highlight of the evening for me was a chance to venture into the upper storeys of the Tower where some of the original fittings and fixtures are still in place.
The link between Louis Taylor and the Tower is that he had it built. In 1911 Taylor wanted a new home for his daily newspaper, The Vancouver World, so he hired the architect William Tuff Whiteway to design him a skyscraper. What was then called the World Tower opened the next year. For a brief period it was, at 17 floors, the tallest building in the British Empire.
But Taylor's timing was bad. In 1913 a terrible recession hit Vancouver and within two years Taylor was forced to sell his paper.
Taylor went on to become Vancouver's most successful civic politician, serving eight terms as mayor. And the building went on to become the Sun Tower, so named because from 1937 to 1965 it was home to the Vancouver Sun newspaper.
In 1974 when Vancouver began its heritage registry the Sun Tower was one of the first buildings listed and its green dome remains a familiar landmark in the city.
The story of the building and Taylor's career is told in my book L.D.: Mayor Louis Taylor and the Rise of Vancouver.