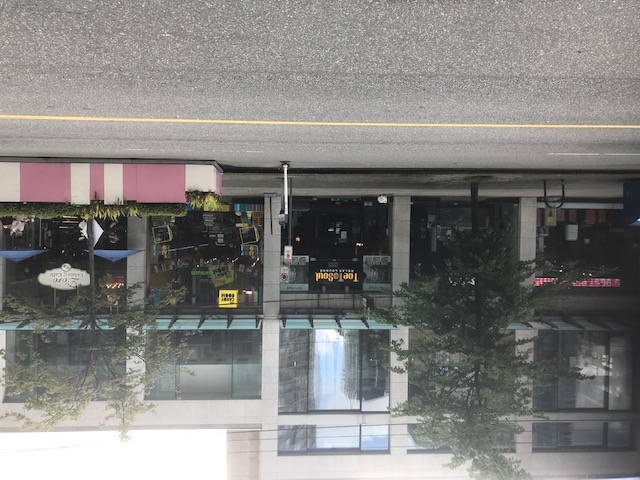 The Sunday New York Times has an article about some of that city's long-ago literary hangouts. The White Horse Tavern where Dylan Thomas drank himself to death. The Algonquin Hotel where members of the Round Table exchanged witticisms. The Gumby Book Studio, a Harlem writers' salon. And others.
Every city has its gathering places where the artsy crowd like to hang out, get wasted, argue, conspire and celebrate. Vancouver is no exception, and during the interwar period that place was the Vanderpant Galleries on Robson Street just west of Bute. (That's the location above, though obviously the old building is long gone.)
John Vanderpant was a Dutch photographer who emigrated to Alberta in 1912 and moved to Vancouver several years later. In the spring of 1926 he and his pal Harold Mortimer Lamb went into partnership. Lamb, a mining promoter whose real interest was the arts, financed the operation, while Vanderpant ran the day-to-day. (It was modelled on the famous New York gallery, 291, run by Alfred Stieglitz.) After a year the two men fell out and Vanderpant continued on his own.
The Galleries featured a photo studio, exhibition space and a shop. It quickly became a kind of clubhouse for a variety of cultural groups, including the Vancouver Poetry Society and the Arts and Letters Club. Vanderpant's musical evenings were legendary. He owned a modern phonograph and a collection of recordings by contemporary composers. Invited guests would sit on cushions on the floor listening raptly, candles flickering, in an atmosphere that seems more like a seance than a social gathering. On other occasions lecturers spoke about different aspects of the arts. 
Vanderpant had his hand in everything that was going on culturally. When he died in 1939 a friend lamented: "The city seems different without Vanderpant around." His daughter continued to operate the Galleries for a while. Later it became a French restaurant, the Cote D'Azur. The building was torn down in the mid-1990s and as you can see from the photo the site is now a busy shopping street. No indication that it was once Vancouver's cultural hub.